The National Football Foundation announced Sunday it will drop its Football Matters campaign out of respect for the Black Lives Matter movement.
"The National Football Foundation fully supports the peaceful protests and their mission to end racism, social injustice, and social inequality," the NFF said in a statement. "When Football Matters was founded in 2014, it was not the intention to imply that football is more important than a black life or any other life. Therefore, we will change the name of this campaign. This work is underway and we will have a new name for the 2020-21 season and beyond."
Football Matters exists to promote the values and benefits of football, both on a personal level and for American society. "It was created to promote sportsmanship, academic achievement, and character building aspects of the game," the initiative's website says. "This is the only campaign and organization that encompasses football at all levels."
Upcoming initatives include launching a network for mothers of players as well as band, cheerleading, drill team, pep squad and training squad members; a Coaches' Channel to celebrate the game's coaches; public service announcements to be played in stadia across the country; and a "robust" advertising campaign.
The Football Matters campaign was also involved in the production of Unsung Heroes: Football and the Polynesian Athlete, a documentary that was honored at the 2019 Maui Film Festival, as well as Unashamed: Mental Health and College Football, a 4-part docu-series starring former BYU quarterback Tanner Mangum.
I worked for the National Football Foundation before I joined FootballScoop, and played a (teeny tiny) small part in getting the NFF's Football Matters campaign off the ground. That was back in 2012, which goes to show how much capital — human and financial — the Foundation has put into that slogan. (The Black Lives Matter campaign began in 2013.)
An industry source estimated the NFF and its partners invested "mid seven figures to low eight figures" and close to 50,000 man hours behind the Football Matters slogan.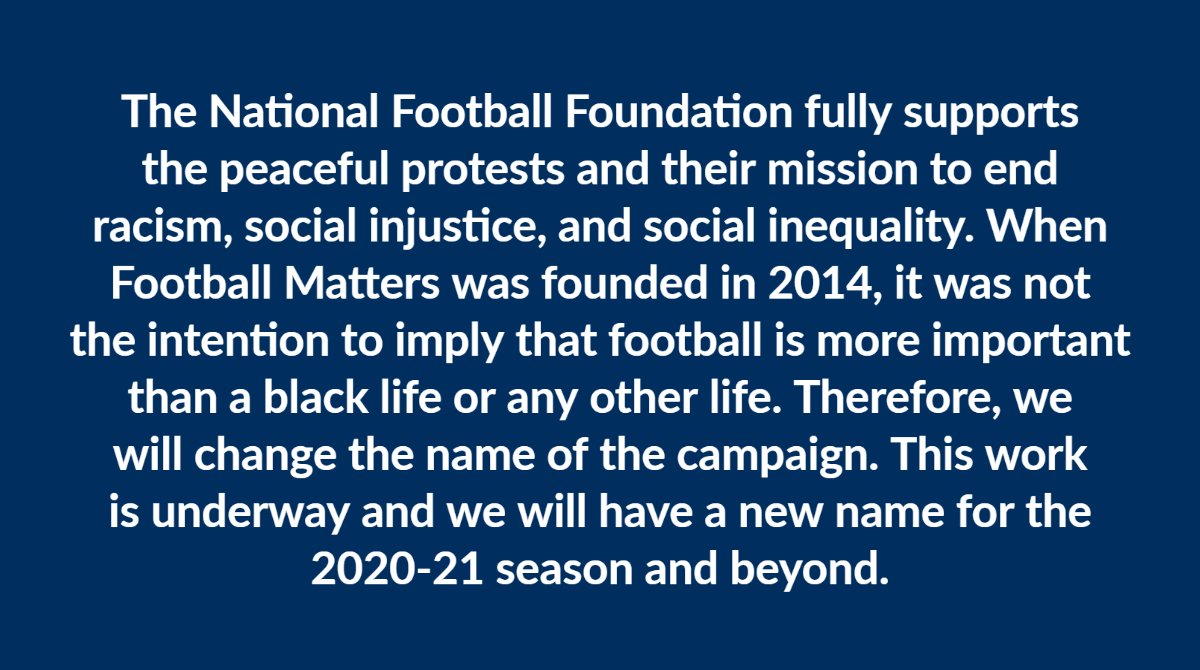 The announcement came one day after Dabo Swinney drew criticism in some corners of the Internet after he was photographed in a Football Matters shirt amid a week that saw hundreds of Black Lives Matter protests across the country.
"Coach Swinney's shirt, in any way, is not mocking the Black Lives Matter movement," Clemson quarterback Trevor Lawrence said. "He has been wearing the shirt for months in meetings."
An industry source confirmed to FootballScoop that the NFF had been considering changing the name before this past weekend. "The Dabo situation proves the sensitivity that exists and had been boiling in some people," the source said.
As always, stay tuned to The Scoop for the latest.