In his MMQB column that posted today, SI's Albert Breer reported that the NFL has floated the idea of opening training camps in mid-July, roughly two weeks ahead of the traditional report date.
The collective bargaining agreement between the league and its players dictates that teams can report 47 days ahead of their first game, but These Uncertain Times may necessitate pushing that forward.
Breer writes:
The new CBA dictates that teams can report 47 days before their first regular season game (a change from the old 14-day rule), meaning the report date for most teams would be July 28. Meanwhile, the joint committee on health and safety is recommending an acclimation period before camp, given the lack of football activity these guys have had, of at least a week or two (and up to three). The good news is, the new CBA builds in a five-day acclimation period. The bad news is players may need more than that under these unique circumstances. So the league has floated the idea of an earlier report date closer to the middle of July, to give players a better chance to get their feet underneath them.
The move would be similar to college football, whose leaders are reportedly considering giving schools to begin mandatory activity around July 1 as part of extended ramp-up time to begin the season on time.
In the meantime, coaches and employees have begun trickling back in to their respective offices, and the NFL on Sunday detailed a set of protocols each team will have to follow when welcoming their players back for official football activities.
The highlights:
— Locker rooms should be reconfigured to allow for six feet of distance between each player
— Meetings should be conducted virtually whenever possible
— Helmets, shoulder pads and other equipment should be disinfected after each game
— Masks are required except for when engaged in "athletic activities"
"Clubs will be required to certify that they have made arrangements necessary to meet their obligations under these protocols and, in certain instances, to provide the details of those arrangements to be reviewed and confirmed by jointly-retained infectious disease experts at DICON," the memo reads.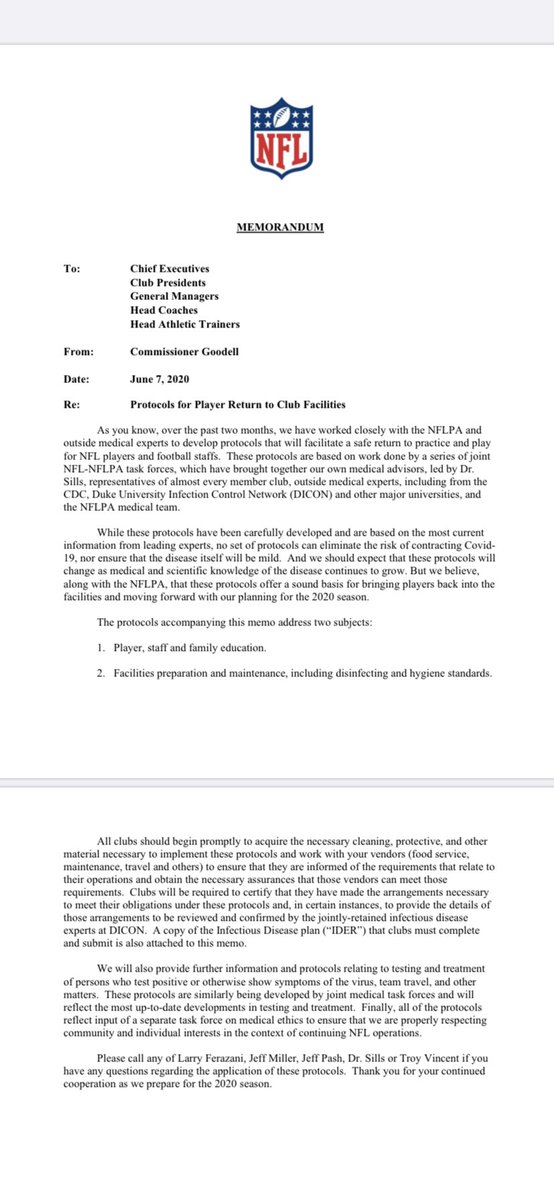 As the NFL stirs to action, it's nice to see the league is taking the health of its players, coaches and employees seriously so we can have a full season this fall.
As always, stay tuned to The Scoop for the latest.