As the time for statements and gestures has passed, the time for concrete action has arrived, and the Texas football team has joined a multi-sport effort letting it be known what concrete actions they would like to be taken.
"We aim to hold the athletic department and university to a higher standard by not only asking them to keep their promise of condemning racism on our campus," a statement released Friday said, "but to go beyond this by taking action to make Texas more comfortable and inclusive for the black athletes and black community that has so fervently supported this program."
The statement was unsigned, but tweeted and re-tweeted by a number of current Longhorns. Among those issuing the statement was Brennan Eagles, the team's leading returning wide receiver who threatened to quit football after (and I'm paraphrasing here) the events of the past two weeks opening his eyes to the social reality of this country before he ultimately reversed-course and returned to the team.
The statement says the players will participate in team activities and play this season, but "without an official commitment from the university we will not be participating in the recruiting of incoming players or donor-related events."
Obviously, it's not lost on anyone in college football — least of all the players themselves — that active players sitting out the recruitment of the next crop of players essentially amounts to a delayed death sentence for the program.
Texas football player for a couple years, but Black forever

— Jordan Whittington (@J_Whitt3) June 12, 2020
Like many state institutions — particularly those in the South — the University of Texas and the UT football program has a poor history of inclusion with the black community. While the examples are many, here are three:
— The Longhorns football team did not integrate until 1970; UT's 1969 team will forever live in infamy as college football's last all-white national champion.
— A statue of Jefferson Davis, the president of the Confederacy, stood on campus until 2015.
— And, according to the university's own most recent numbers, just 4.9 percent of the student body black. The state as a whole is 12.8 percent black.
Among the list of requests from the players:
— Donating 0.5 percent of the athletics department's annual earnings to "black organizations and the BLM movement"
— Renaming an area of Darrell K Royal-Texas Memorial Stadium after Julius Whittier, the program's first black player
— Replacing "The Eyes of Texas" as the school's alma mater with "a new song without racist undertones" while dropping the requirement for players to sing the song after games.
Texas players also demanded the renaming of a number of campus buildings; a number of former Clemson football players led a similar effort this week at that school.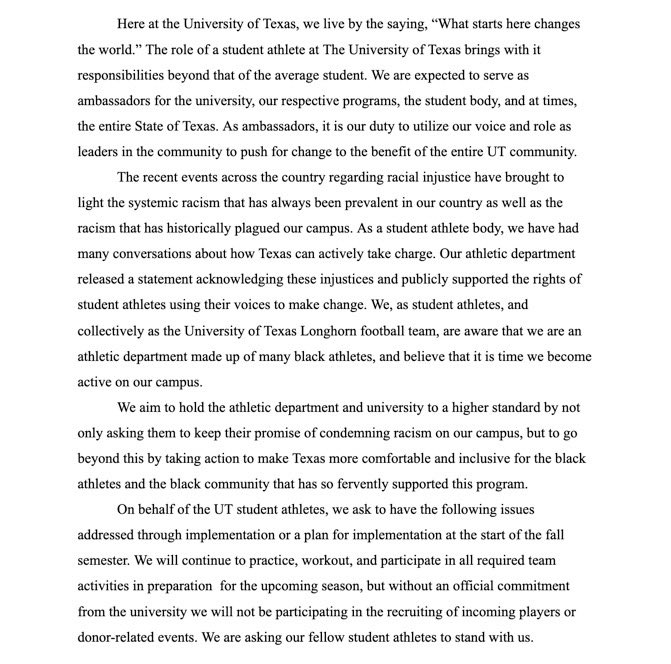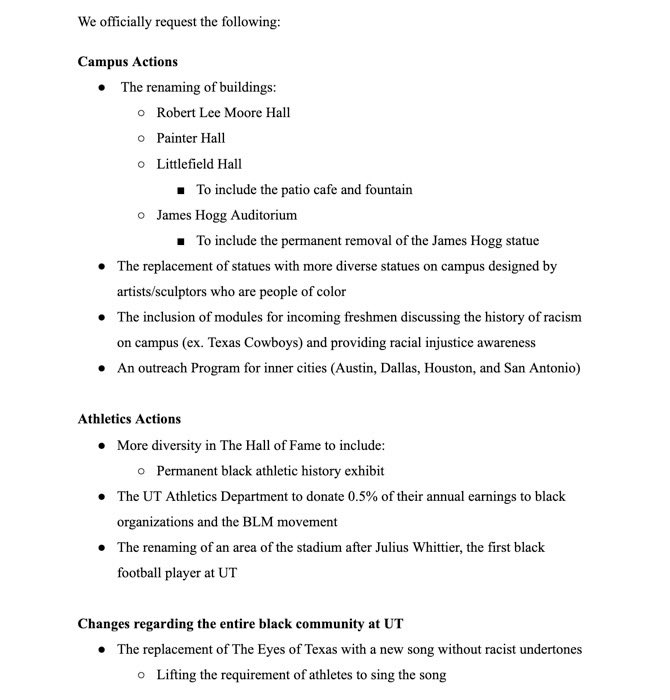 Similar to the situation that popped up at Florida State last week, this letter is an opportunity for the Texas football team to grow closer together.
And for his part, Tom Herman's past statements indicates he will support the players in this endeavor.
"We're going to pack 100,000 people into DKR and millions watch on TV that are predominantly white — not all of them certainly, but most of 'em white. We're gonna cheer when they score touchdowns, and we're gonna hug our buddy when they get sacks or an interception," Herman told the Austin American-Statesman on June 1. 
"But we gonna let them date our daughter? Are we going to hire them in a position of power in our company? That's the question I have for America. You can't have it both ways.
"And if you're going to cheer them and love them for three-and-a-half hours a Saturday in the fall, you better have the same feelings for them off the field, because they're human beings. They deserve the same amount of respect and human rights that all of us do in this country when we agreed on the social contract to be a member of the United States."
The following day, Herman said this on The Herd:
"Two weeks from now, three weeks from now, a month from now, a year from now, this has to have meant something. We have to have affected change by not just our words but our actions. I ended our meeting with our players, a very emotional meeting, and I said 'guys we talk about it in our program all the time, don't talk about it, be about it.' And more than ever our society needs a systemic overhaul and it starts with the way minorities are treated implicitly and explicitly in this country," he said.
"I told our players I don't have their back, I have their front. 'You tell me what to do, what wall to run through, I'll run through it, I'll make a hole so big that you guys can walk through it.' Because that's how passionately we feel, because when you love somebody the way we love our players and you see them hurt and you see them angry and you see them frustrated, much like a parent, you want to take all of that off of their heart and you want to put it all on yourself and be there for them and provide some guidance for them. Hopefully us here at Texas we won't be forgotten on our message on this topic. In a short few weeks, hopefully us a program and our individuals within our program can help truly affect real change in the system."
On Friday, Herman's players told him exactly which walls they'd like him to run through.
---
Friday afternoon update>
Texas AD Chris Del Conte offered the following statement:
I am always willing to have meaningful conversations regarding any concerns our student-athletes have. We will do the same in this situation and look forward to having those discussions. https://t.co/kat3B9hqvo

— Chris Del Conte (@_delconte) June 12, 2020